Dan Pritchett,
Chief Platform Architect, Rearden Commerce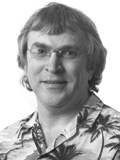 Dan Pritchett is the Chief Platform Architect at Rearden Commerce, having joined the company in September 2008. Prior to this, Pritchett was a Technical Fellow at eBay, where he was a member of the architecture team for four years.
In Pritchett's new role at Rearden Commerce, he is tasked with finding solutions to the unique set of challenges the company faces as his team scales the platform and manages the architectural issues for the platform. He is also responsible for communicating the Rearden Commerce technology outlook and recruiting a workforce of quality Java developers. Pritchett's background includes an extensive depth of technical experience, ranging from network-level protocols and operating systems to systems design and software patterns.
Dan has a B.S. in Computer Science from the University of Missouri, Rolla. He lives in San Jose, Ca. with his wife and two daughters. He likes to spend his free time coaching at Willow Glen Little League and tinkering with cantankerous old British cars.
His blog can be found at: http://www.addsimplicity.com/