Ben Galbraith,
Ajaxian.com co-founder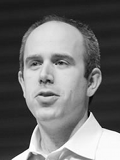 Ben Galbraith is the co-director of Developer Tools at Mozilla and the co-founder of Ajaxian.com. Ben has long juggled interests in both business and tech, having written his first computer program at six years old, started his first business at ten, and entered the IT workforce at twelve.
He has delivered hundreds of technical presentations world-wide, produced several technical conferences, and co-authored over a half-dozen books. He has enjoyed a variety of business and technical roles throughout his career, including CEO, CIO, CTO, and Chief Software Architect roles in medical, publishing, media, manufacturing, advertising, and software industries. He lives in Palo Alto with his wife and five children.