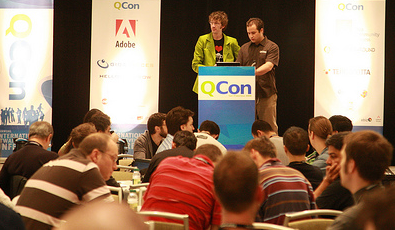 QCon San Francisco 2010 is SOLD OUT
Tutorials: November 1 -2, 2010
Conference: November 3-5, 2010
QCon is a practitioner-driven conference designed for team leads, architects and project management. The program includes two tutorial days led by industry experts and authors and three conference days with 16 tracks covering a wide variety of relevant and exciting topics in software development today. There is no other event in the US with similar opportunities for learning, networking, and tracking innovation occurring in the enterprise software development community.
Speakers include:
Patrick Copeland, Google Director of Engineering; Saved Google 700 engineering years
Michael Nygard, Author of "Release It!"
Dan Ingalls, The principal architect of five generations of Smalltalk environment
Martin Fowler, Chief Scientist at ThoughtWorks and Loud-Mouth on Object Design
Nick Kallen, Twitter Engineer; FlockDb co-creator

Stuart Halloway, Author of "Programming Clojure" and "Rails for Java Developers"

Dan North, Agile troublemaker, developer, originator of BDD

... and more