Sastry Malladi,
Distinguished Architect, eBay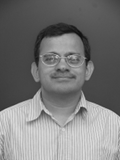 Sastry is a technology evangelist with over 20 years of experience in architecting and building scalable distributed computing systems, in the areas of Application Servers, Java/J2EE/Web Services, SOA and Grid Computing. He is currently a Distinguished Architect at eBay, driving the SOA architecture and platform for the eBay ecommerce platform.
Prior to joining eBay, Sastry was co-founder and CTO of OpenGridSolutions, Founding member and Architect at SpikeSource, and an architect at Oracle. Sastry also worked at many other companies in the early stages of his career and holds a Masters degree from I.I.T, Kharagpur, India. Sastry has presented at many conferences including JavaOne, Oracle World, SOA world and IONA world to name a few.. Sastry contributed to and represented in many standards at OMG, JCP, GGF and OASIS.