Siddharth Anand,
Netflix Cloud Architect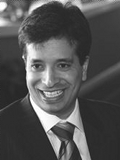 Siddharth "Sid" Anand is a technologist/software architect with deep experience scaling high-traffic web sites – he is passionate about algorithms and system design.
Sid is currently a member of Netflix's Cloud Systems team, where he creates Cloud-based systems to improve Netflix's scalability, performance, and availability. Prior to joining Netflix, Sid served as the VP of Engineering at Etsy, worked as a search engineer and researcher at eBay, and solved performance issues at Siebel Systems. He earned his B.S. and M.Eng degrees from Cornell University – his graduate work focused on distributed (cloud) computing.
Specialties:
System Scalability and Performance, Cloud Computing, Algorithms

Coordinates:
Email : siddharthanand@yahoo.com
Twitter : r39132
Linked In : http://www.linkedin.com/in/siddharthanand