Peter Bell,
Senior VP Engineering, General Assembly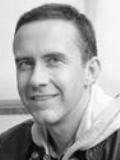 Peter is Senior VP Engineering and Senior Fellow at General Assembly, a campus for technology, design, and entrepreneurship.

He has presented at a range of conferences including DLD conference, ooPSLA, RubyNation, SpringOne2GX, Code Generation, Practical Product Lines, the British Computer Society Software Practices Advancement conference, DevNexus, cf.Objective(), CF United, Scotch on the Rocks, WebDU, WebManiacs, UberConf, the Rich Web Experience and the No Fluff Just Stuff Enterprise Java tour.

He has been published in IEEE Software, Dr. Dobbs, IBM developerWorks, Information Week, Methods & Tools, Mashed Code, NFJS the Magazine and GroovyMag. He's currently writing a book on managing software development for Pearson. He is an organizer of the CTO School http://www.ctoschool.org - an organization in NYC devoted to creating the next generation of technical leaders. He also organizes the node.js meetup in New York and co-organizes the Domain Driven Design and Grails meetups.