Sean Cribbs,
Software Engineer, Basho Technologies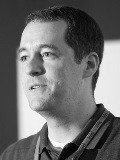 Sean Cribbs is a Software Engineer at Basho Technologies, where he works on Riak, the fault-tolerant, highly-scalable distributed database. Prior to Basho, Sean was a freelance developer and consultant who also managed the development of the open-source Radiant web publishing system.
He briefly studied Music Theory at the graduate level after receiving degrees in Computer Science and Music from University of Tulsa. He can often be found speaking about Riak at conferences and other events, and enjoys playing the piano in his free time.