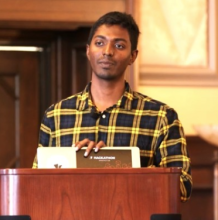 Speaker: Nikhil Simha
Author of "Chronon Feature Platform", Previously Built Stream Processing Infra @Meta and NLP Systems @Amazon & @Walmartlabs
Nikhil Simha is a Staff Software Engineer on the Machine Learning infrastructure team at Airbnb. He is currently working on Chronon, an end-to-end feature engineering platform. Prior to Airbnb, he was a founding engineer on the stream processing team where he built a scheduler (Turbine, ICDE '20) and a stream processing framework (RealTime Data @ FB, SIGMOD '16) at Facebook. He is interested in the intersection of compilers, machine learning and realtime data processing systems. Nikhil got his Bachelors degree in Computer Science from Indian Institute of Technology, Bombay. While not working, he likes to walk with his dog Leela.
Find Nikhil Simha at:
Session
ML Models typically use upwards of 100 features to generate a single prediction. As a result, there is an explosion in the number of data pipelines and high request fanout during prediction.
Read more