As we continue to expand technology and increase our reliance on the use of artificial intelligence and algorithms, it's more important than ever for us to be intentional about creating connection and belonging on our teams and in our organizations. There's no better teacher for doing just this than the beloved fictional football coach, Ted Lasso.
In this hands-on workshop grounded in positive psychology and emotional intelligence, participants will explore four fundamental human-centered leadership themes from the popular TV show "Ted Lasso," that have the power to create endearing and effective leaders, and transform workplace cultures into spaces of connection and belonging for everyone. Using interactive exercises, reflection, and discussion, participants will leave this workshop with a better understanding of:
·      the neuroscience behind positive emotions and gratitude for well-being
·      how curiosity and empathy lead to mindset shifts
·      why compassion is better for performance than perfectionism   
·      masculine and feminine leadership traits and how to leverage each
Participants will walk away from this workshop with new perspectives about leading with more empathy, courage, and authenticity in the tech space, and the skills to begin creating conditions for greater trust and psychological safety, deeper connections, and a sense of belonging within their teams and organizations.  
---
Speaker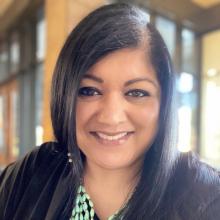 Dimple Dhabalia
Founder of @Roots in the Clouds & Creator/Co-host of the popular "Ted Lasso" themed podcast, What Would Ted Lasso Do?
Dimple Dhabalia is the founder of Roots in the Clouds, a boutique consulting firm specializing in using the power of story to heal individual and organizational trauma and moral injury. She is also the creator and co-host of the popular "Ted Lasso" themed podcast called What Would Ted Lasso Do? where she and her co-host explore the popular TV show Ted Lasso through the lens of leadership and positive psychology.
Dimple believes that the heart of the human experience is a desire to connect, belong, and be seen. With more than 20 years of global public service experience, Dimple's cutting-edge work uses the power of mindful awareness and storytelling to help leaders and organizations unpack and heal old narratives; mitigate trauma, moral injury, and burnout; and create meaningful connection between people working in mission-driven spaces.
Dimple is a photographer, storyteller, foodie, and an avid traveler who has lived, worked, and traveled in over 40 countries. She is an International Coaching Federation-accredited coach, certified in Applied Positive Psychology (CAPP), and is a certified Mindful Performance Enhancement, Awareness, and Knowledge (mPEAK) facilitator. Prior to her federal government service working on global migration efforts, Dimple worked as an Assistant Attorney General representing the Department of Human Services at the Colorado Attorney General's Office. Dimple has a J.D. from the University of Denver, College of Law, a B.A. in Institutions and Policies and a P.P.E. degree from William Jewell College and Oxford University.
Read more
Find Dimple Dhabalia at: