One of the most important decisions in building an SRE practice is what kind of work should be assigned to the SRE team, and in what percentages. At Red Hat, we ship OpenShift both as a product and as a service, which can make it extra difficult to draw the lines between feature development and toil automation work. In addition, we face the usual SRE struggle between striving for toil minimization and unintentionally devaluing Ops-type work. In this talk, we will discuss the evolution from shipping products to running services, and what we've learned while trying different approaches. 
---
Speaker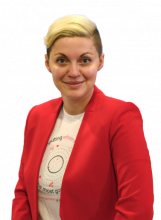 Sasha Rosenbaum
Director of the Cloud Services Black Belt Team @RedHat
Sasha is a Director of the Cloud Services Black Belt team at Red Hat, where she is helping enterprise customers successfully migrate to Managed OpenShift on customers' favorite public cloud.
In her career, Sasha has worked in development, operations, consulting, and cloud architecture. Sasha is an organizer of DevOpsDays Chicago, a chair of DeliveryConf, and a published author.
Read more