Stuart Charlton,
Cloud and OO Guru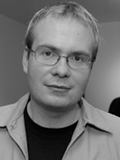 Stuart Charlton is a Vice President and the Chief Software Architect for Elastra, a provider of enterprise cloud computing software.
He specializes in the areas of systems architecture, configuration management, RESTful web architecture, and is an avid student of lean & agile approaches to business processes and product development. Prior to joining Elastra, Stuart was an Enterprise Architect with BEA Systems, where he co-developed SOA strategies for the global consulting practice, and was the lead SOA architect for the Canadian region.
Prior to BEA, Stuart was the lead integration architect at Rogers Communications, Canada's largest cable & wireless communications provider, and was a consultant and trainer for over a dozen organizations in the United States, Canada, and Japan. He is the co-author of CodeNotes for J2EE, and has written for several leading industry publications.