Amr Elssamadisy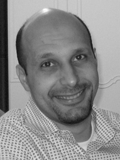 Amr Elssamadisy is a software development practitioner who helps his clients build better software that is more valuable to their organizations. Amr and his colleagues at Gemba Systems deliver immediate and lasting results for clients needing to build software systems better, faster, and more reliably.
Amr's technical background and experience allows him to appreciate the problems of and support development teams 'in the trenches'. At the same time, he realizes that most problems - even in software - are people problems, and therefore are not solved by tools and technology. Amr and his colleagues at Gemba Systems work with organizations to deliver systematic managed adoption programs that go beyond learning a methodology to create ownership and passion in pursuit of business results. In the chaos of the real world, he and Gemba deliver on the promise of lean and agile software development.
Amr is also the author of
Agile Adoption Patterns: A Roadmap to Organizational Success and Patterns of Agile Practice Adoption: The Technical Cluster
. Amr is also lead editor for the AgileQ at InfoQ and a frequent presenter at software development conferences. You can reach him by sending an email to
amr@gembasystems.com
.