Jeff Brown,
Core member on Grails Development Team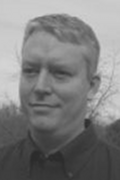 Core member of the Grails development team, Jeff Brown, is a Senior Software Engineer with SpringSource. Jeff has been involved in designing and building object oriented systems for over 10 years, he currently teaches a number of Java and object oriented training courses in addition to doing consulting and mentoring work for industries including Aerospace, Financial, and Medical.
Jeff's areas of expertise include Java, agile web development with Groovy & Grails, distributing computing, object database systems, object oriented analysis and design and agile development.