Lloyd Taylor,
President of NetElder Associates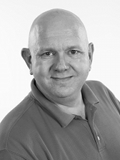 Lloyd was Director of Global Operations at Google during their massive post-IPO infrastructure growth. He was VP Technology & Operations at LinkedIn, Keynote, and Digex during their respective rapid growth periods.
Lloyd has a unique way of looking at the world, most likely due to his upbringing by a quantum physicist and a professional musician. He spent most of his childhood and teen years hanging out with people holding widely varying, and often contradictory, perspectives on the universe, and learned to appreciate that our ability to deal with reality is largely a matter of how we perceive it.
Understanding the overall system, and getting to the underlying facts, is the core of his professional and pro bono work. Some of his better-known methods for getting to the underlying truth include asking "What problem are we really trying to solve here?", applying the discipline of the five whys, and focusing on why people behave in self-limiting ways rather than work for their own good as well as the good of the organization.
As President of NetElder Associates, Lloyd helps companies scale successfully, ensuring that both infrastructure and company culture survive, and thrive, during rapid growth.