Marc Stiegler,
Research scientist at HP Labs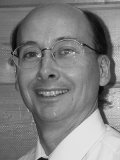 Marc Stiegler is a research scientist at HP Labs. He was the main designer of CapDesk and Polaris, two desktop systems that are robust in the face of cyberattack, and the DarpaBrowser, a secure web browser that introduced concepts now incorporated in Google Chrome.
His book "Programming Languages for the IBM PC" was listed as 20 key books on the PC by Byte Magazine, and his DecideRight decision analysis system was selected as Best New Business Software by the Software Publisher's Association in 1996.