Nati Shalom,
CTO and Founder of GigaSpaces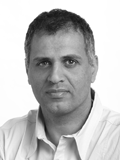 Nati Shalom is the CTO and Founder of GigaSpaces. He is also the Head of the Israeli Grid consortium. He has more then 10 years of experience with distributed technology and architecture namely CORBA, Jini, J2EE, Grid and SOA.
As a technology visionary, he is a frequent presenter at industry conferences and is actively involved in evangelizing Space Based Architecture and Data Grid patterns.