Rolf Russell,
DevOps/Build/Release Practice Lead at ThoughtWorks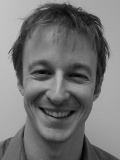 Rolf Russell leads the DevOps/Build/Release practice at ThoughtWorks.
He focuses on helping IT organizations become nimble and reactive in meeting their customers' needs through pragmatic improvements to the way software is build and taken into production.
Rolf developed his passion for this space in the traditional way, through painful experience as poorly managed 'paths to production' endangered projects he was delivering.
His experiences come through working with Fortune 1000 companies across an array of industries, including financial services, telecommunications, energy and media.