Alexander von Zitzewitz,
Co-founder of hello2morrow Inc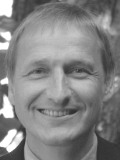 Alexander von Zitzewitz is one of the founders of hello2morrow and has more than 20 years of experience with object oriented software development and software architecture in general. He has a degree in Computer Science from Technical University of Munich. In July of 2008 he moved to Massachusetts to build up the North American operations of hello2morrow. Besides computers and software architecture Alexander likes Red Wine, good Jazz, hiking, strategy games and sunny weather.