James Pearce,
Head of Developer Advocacy, Facebook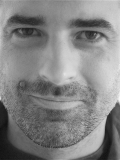 "James is Head of Developer Advocacy at Facebook. He's a developer and writer with a special passion for the web, mobile platforms of all sorts, and exploring their
untapped potential.
James' mobile projects include confess.js, WhitherApps, tinySrc, ready.mobi, Device Atlas, and mobiForge. Previously at Sencha, dotMobi, Argogroup and Ernst & Young,
he has also written books on the mobile web for Wrox & Wiley. He's easy to find at /jamesgpearce, @jamespearce or http://tripleodeon.com
"