Randy Shoup,
Google Cloud Computing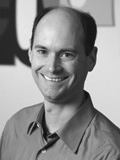 Randy is a 20-year veteran of Silicon Valley, with experience across real-time eCommerce systems, large-scale data analysis, and business intelligence. He gives regular presentations on distributed computing and infrastructure scaling at industry and academic conferences.
Prior to Google, Randy was CTO and Co-Founder at Shopilly. Before that, Randy was Chief Engineer and Distinguished Architect at eBay, where he led architecture, design, and implementation of eBay's real-time search infrastructure.
Earlier, he was Chief Architect and Technical Fellow at Tumbleweed Communications, developing messaging and email security systems for financial institutions and large enterprises. He has also held a variety of software development and architecture roles at Oracle and Informatica.
Twitter: @randyshoup