Social Events & Peer Sharing - QCon SF 2018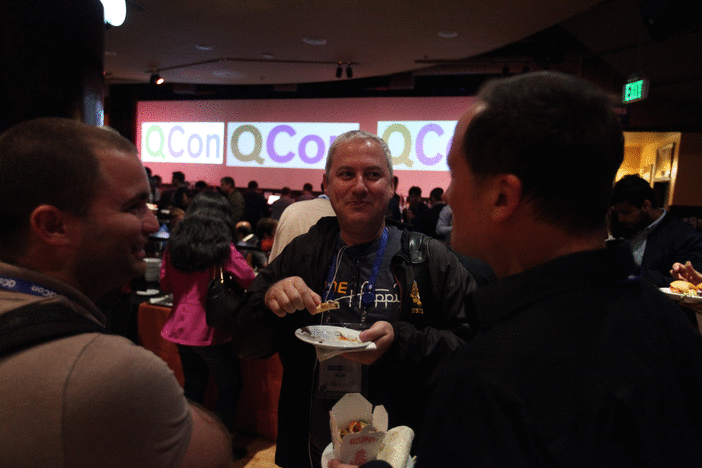 QCon Conference Social - Monday
Attend to mingle and network with other attendees, speakers, editors, sponsors.
Off-site event @ TableTop Tap House, 175 4th Street, San Francisco. TableTop Tap Housewill provide food, drinks and pool tables.
Complimentary for all conference attendees (BADGE REQUIRED)
Continuous bus service between 6:30pm and 10:45pm. Buses leave from the Hyatt exit at Market Street
Drinks at 7:00pm
Dinner at 7:30pm
Ends at 10:45 pm
Exhibitor Reception and Raffle - Tuesday
Grab a drink and discover if you won a prize from our sponsors.
Past prizes have included drones, tablets, iWatches, GoPros, iPods, Raspberry Pi's, and more.
6:15pm - 7pm
Exhibition Areas
Beer, wine, soda, dry snacks
QCon Reception - Wednesday
5:00pm - 5:30pm
Grand Foyer
Peer sharing in the Open Space and Speakers AMAs - Monday to Wednesday
In Open Space meetings, events and organizations, participants create and manage their own agenda of parallel working sessions around a central theme of strategic importance.
Discussion Cafe at Lunch - Monday to Wednesday
Eat and Talk! Big Data, HTML5, CS, Security, Mobile,... Join one of the topic tables of 4 seats and mingle with attendees who share interests with you during lunch!
QCon Online Social Platform
A couple of weeks prior to the conference, we will email you codes to access to your attendee dashboard. From there you will be able to connect with other attendees who share similar interests with you, and build a custom schedule by pre-selecting the talks you plan to attend.