Dan Pritchett,
Chief Technology Officer, Rearden Commerce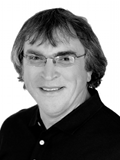 A highly regarded technologist, Dan Pritchett brings more than 25 years of engineering experience to Rearden Commerce after working with some of the most well-known technology companies of our day. In his role as Chief Technology Officer, Dan is tasked with creating solutions for the unique set of challenges that go with scaling the Rearden Commerce platform to accommodate rapid growth.
Previously Dan was a lead architect engineer at eBay where he was responsible for integrating the catalog's functionality, re-architecting the billing system and structuring the architecture for integration across all of eBay's 19 companies. Due to the significant accomplishments he achieved, he was designated to become one of the seven Technical Fellows at eBay.
Prior to his tenure at eBay, Dan consulted on foundational Internet infrastructure for many well-known companies such as Chase, Sun, HP, Electronic Arts, and the Federal Home Loan Bank.
Early in his career, Dan was a software engineer at Sun Microsystems; working on the desktop email application. Prior to this, Dan developed for ESL, where he had a heavy emphasis on geographical data modeling.
Dan is frequently asked to speak at technical events. In the past he has been featured at InfoQ (2x), Colorado Software Summit (2x), Dr. Dobbs Software Conference, and local Java SIGs.
Dan has a Bachelor of Science in Computer Science from the University of Missouri, Rolla.