Sanjay Radia,
Co-founder of Hortonworks and Senior Hadoop Architect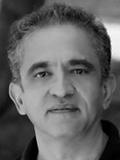 Sanjay is an Apache Hadoop committer and member of the Apache Hadoop PMC.
Prior to co-founding Hortonworks, Sanjay was the architect of core-Hadoop at Yahoo focusing mostly on HDFS, and MapReduce schedulers.
He has also held senior engineering positions at Sun Microsystems and INRIA, where he developed software for distributed systems and grid/utility computing infrastructures.
Sanjay has a PhD in Computer Science from the University of Waterloo in Canada.