Deepak Nadig,
eBay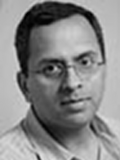 Deepak Nadig is Distinguished Application Architect at X.commerce, a division of eBay, Inc., which is developing the Commerce Operating System, a platform for commerce merchants and developers. Before X.commerce, Deepak managed the Enterprise Architecture team at eBay, which was responsible for Application, Technology and Data Architecture. At eBay, as a Distinguished Architect, Deepak led the architecture of eBay¹s advertising, analytics, experimentation and web services platforms.
Before eBay, Deepak was CTO at Convenos, which provided solutions for real-time conferencing. Earlier, Deepak was Chief Architect and co-founder at Covigna, a company providing solutions for contract lifecycle management. Prior to Covigna, Deepak held lead technology and architecture roles at HP and VeriFone.
Deepak has a BS in Electrical Engineering from IIT Bombay, and MS from Louisiana State University.