QCon San Francisco 2019 is a wrap!
Over 1500 attendees, speakers, and exhibitors made the 13th edition of the conference one of our best ones yet. Take a look at the conference highlights. Catch up with the session videos you missed. See what people had to say on social about #QConSF.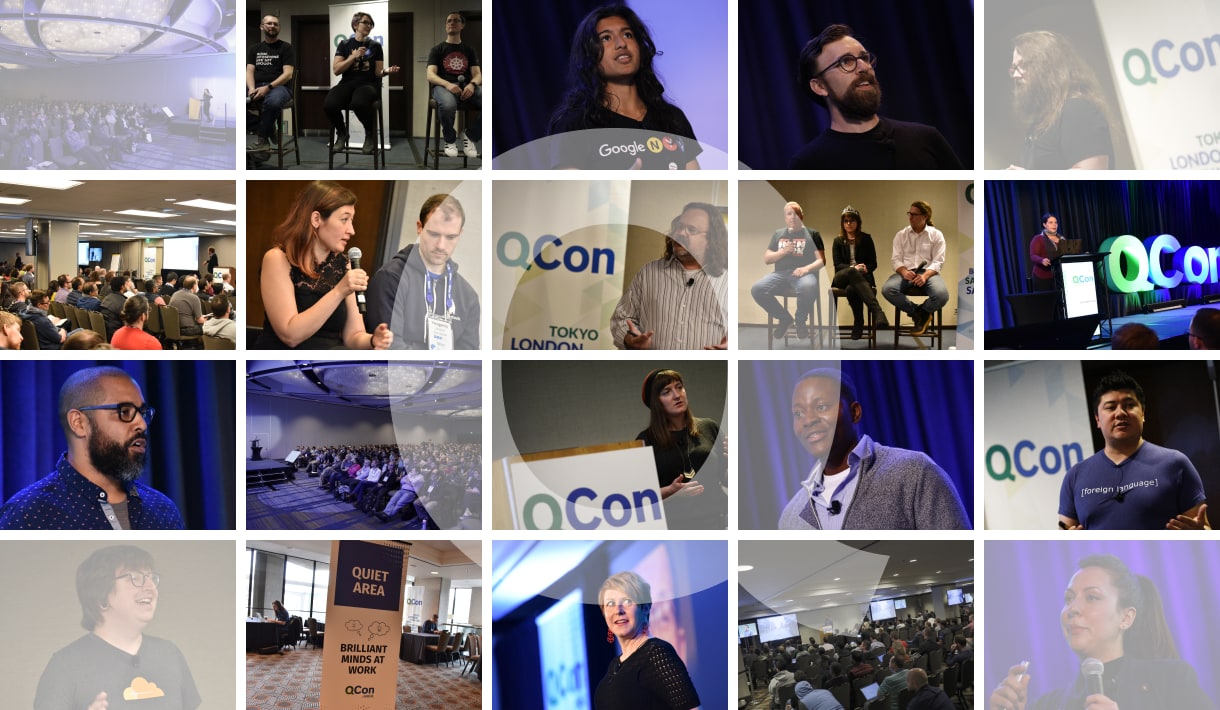 2019 Topics
Over 1500 attendees learned from practitioners working in innovator and early adopter companies about the topics that matter most in software today.
Our technology adoption curve captures these topics:
Innovators
Cilium/eBPF
Deep Learning
Web Assembly
Mixed Reality
gVisor
CRDTs
Algorithmic Transparency
Graph Algorithms
Early Adopters
DataEng
Kubernetes
Machine Learning
Lamba Architecture
Istio
Rust
Chaos Engineering
Service Mesh
Voice Interaction
Early Majority
Devops
Microservices
Reactive Programming
Containers
Go-Lang
Use our interactive chart to learn more about the 2019 sessions by topic
2019 Hosts and Tracks
What is a QCon track? Each "editorial" track (that's what we call the curated talks focused on developer lessons) is a collection of software topics curated by a domain expert in areas such as culture, data science, machine learning, front-end technologies, and architecture. Take a look at the QCon San Francisco 2019 topics and tracks:
2019 Workshops
QCon isn't just about the conference. QCon also offers a wide reach of workshops on the two days following the conference. We had an incredible lineup of workshops in 2019 that provided shorter technology-focused deep dives. This year's topics included: Serverless, Containers, Kubernetes, Apache Kafka, KSQL, Java, Microservices, Security and more:
2019 Keynotes
QCon San Francisco 2019 brought together incredible people who shared their insights to help software teams adopt new technologies and practices. Our keynote speakers are among the team leads, architects and software engineers moving our industry forward. Here are four takeaways from our 2019 keynotes:
The QCon Impact
QCon San Francisco isn't just a software conference. It's the place where senior software engineers,
tech leads, and architects come together to learn, share, and push each other to drive innovation in the software industry.
Find out what attendees had to say about their experience at QCon San Francisco 2019.
It was such an honor to speak @QConSF about the work that I do. This is a really impressive conference and I loved talking with and learning from other speakers & attendees. We need more Microsoftees out here! Many thanks to @breckcs for the invite! #QConSF

Chris Gillum
@cgillum
#QConSF is coming to an end for me tonight. Attended some very interesting talks by many great speakers and thought leaders. Lots of ideas to reflect on. Hopefully I can come back next year. Thank you @wesreisz and team for organizing this!

Emmanuel Ballerini
@emballerini
Just finished up attending #QConSF and I had an amazing time. A great place to hear about the newest challenges Tech is facing... and more importantly, how we're solving them!

Jameson Lee ⚡️
@mimoemergence
A little blurry means, "we're having such a great time we can only spare a second to snap a photo before we're on to the next thing!" Glad our Mojos are having a great time at @QConSF.

MojoTech
@MojoTech
QCon is all about software engineering and actually covers a very wide variety of topics. It is not limited to a specific technology or vendor. That's why it's great.

Andrian Budantsov
CTO @ReaddleINC



QCon San Francisco 2019
I think that QCon does a very good job of bringing in some of the smartest technical minds on the leading edge of software development.

Andrew Overton
System Software Developer @American Equity Investment Life Insurance Company


QCon San Francisco 2019
Sign up for event updates
Hear about the latest QCon and InfoQ developments. Be the first to learn about in-person and virtual events.
We facilitate the spread of knowledge and innovation in professional software development by sharing the expertise of practitioner software engineers and architects. We've been helping software development teams adopt new technologies and practices for over 17 years through InfoQ articles, news items, podcasts, tech talks, trends reports, and QCon conferences. Join a community of senior software engineers, architects and team leads.
Read InfoQ →