Videos and Slides
See the QCon San Francisco 2013 video calendar here, and download the slides from the schedule page.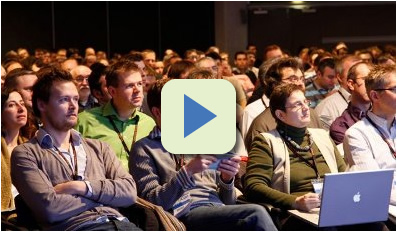 2013 Tracks
Demystifying the API Lifecycle: The art of building and launching successful
APIs.
Applied Machine Learning and Data Science: Turning massive data into delightful product
Architecting for the Cloud: Designing for the Cloud, it's not just about deployment
Hadoop : Beyond Map-Reduce: Cutting edge developments in the Hadoop Ecosystem, including YARN, Tez, REEF, and Samza.
Tomorrow's Developer Tools: IDEs, editors, languages of tomorrow
Continuous Delivery: How to release software on demand, and what happens next
Engineering Culture -
how to build, organize
and fuel the best engineering team possible: Exploration of the Ways to Create an Awesome Engineering Culture
Next Generation HTML5 and JavaScript: Leveraging the biggest software ecosystem today
Making Virtual and Remote Teams Shine:Learn about tools, techniques, and effective dynamics of remote and distributed teams
NoBackend: Front-End First Web Development: Build apps without thinking back-end
Functional Programming has won. Period.
Scalability, Availability, and Performance: Putting It All Together: Designing, building, and operating highly-available, fast, large-scale systems
Taming Mobile: Tackling
the problems of mobile development
Java at the Cutting Edge: Latest news on Java languages, frameworks and ports
Architectures you've always wondered about: Learn real world lessons from well-know, high-volume apps