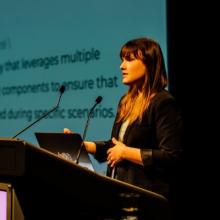 Speaker: Danica Fine
Senior Developer Advocate @Confluent
A mathematician by training and software engineer in practice, Danica is passionate about problem-solving. Her work has spanned multiple disciplines -- biology, finance, and geology -- where she may apply her existing skillset to new areas and use the opportunities to expand her knowledge and grow her skills. She has proven herself as a capable engineer who thrives in new environments and rises to meet any challenge.

As a certified Scrum Master, Danica enjoys working with people to manage projects and facilitate the organization of new, improved workflows.
Workshop
A streaming pipeline is where we send data from a source to a target as the data happens, in a stream. Contrast this to a batch world where we wait for a period of time (maybe hours or days) before collecting a bunch of the data and then sending it to the target.