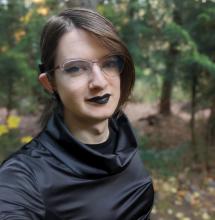 Speaker: Hazel Weakly
She / her / hers
Head of Infrastructure & Developer Experience; Director, Haskell Foundation; Infrastructure Witch of Hachyderm
Hazel spends her days working on building out teams of humans as well as the infrastructure, systems, automation, and tooling to make life better for others. She's worked at a variety of companies, across a wide range of tech, and knows that the hardest problems to solve are the social ones. Hazel currently serves as a Director on the board of the Haskell Foundation and is fondly known as the Infrastructure Witch of Hachyderm (a popular Mastodon instance). She also created the official Haskell "setup" Github Action and helps maintain it. She enjoys traveling to speak at conferences and sharing what she's learned with others.
One of her favorite things is watching someone light up when they understand something for the first time, and a life goal of hers is to help as many people as possible experience that joy. She also loves swing dancing, both as a leader and a follower.
Find Hazel Weakly at:
Session
Technical concepts are something that are thought of, approached, and understood differently across engineers, managers, and executives. Bridging the gaps and providing understanding to a complex and nuanced topic across all three groups can sometimes feel impossible.
Read more