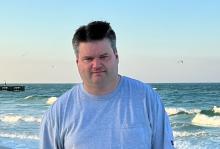 Speaker: Jim Knicely
Solutions Architect @YugabyteDB
Jim Knicely is a Principal Presales Engineer at YugabyteDB. Professionally, he has been in the database world for many years, beginning his career surrounded by legacy OLTP relational databases like Oracle and SQL Server. He then expanded into the OLAP space with Vertica, but in more recent years, he has matured into the realm of Distributed SQL databases. When he's not showcasing the immense potential of YugabyteDB to potential clients or assisting current clients, he enjoys traveling with his wife, taking long walks with his dog Lucy, and gaming on his latest updated rig (i.e. PC) with his son.
Workshop
Join us in this dynamic, hands-on workshop where we delve into the development of resilient, scalable Java applications harnessing the power of distributed databases.
Read more
Workshop
Dive into this dynamic, hands-on workshop, where participants will learn the art of designing and developing scalable RESTful APIs using Spring Boot integrated with an open-source distributed database.
Read more