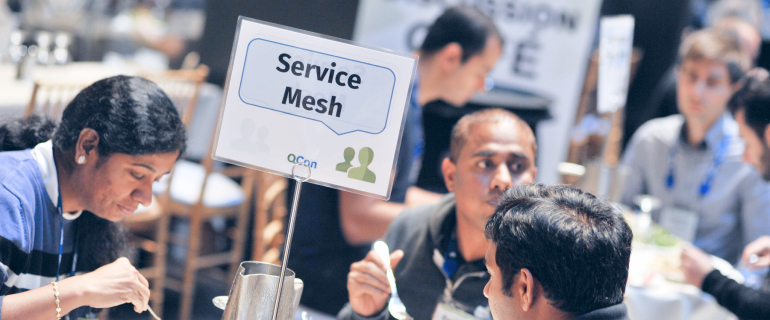 Lunch Topic Discussions
Eat, discuss, and learn! Join one of the Lunch Topic Discussion tables and share your insights and questions with fellow attendees. It's the perfect opportunity to take advantage of every minute of your time at QCon by connecting with peers who are working with the same tools, constraints and challenges you are!
Need inspiration for a project you're working on? Have an interesting insight to share? Looking for advice on how to solve a problem? 
This is an incredible opportunity to bring up anything you'd like to talk about! You can have unstructured conversations and debates around some of the major topics presented at QCon.
Be sure to check which day your topics are being discussed! 
Topics we will be discussing include:
Monday
Staff-Plus Engineer
Architecture
Modern Languages
MLOps
Tuesday
Platform Engineering
Platforms
Java
Resilient Architectures
Wednesday
Cloud Native Development
Javascript & Front-Ends
Building for Scale
AI and ML
Lunch Menus for QCon San Francisco 2023
Enjoy a variety of healthy food choices, including gluten-free, vegetarian and vegan options - there's something for everyone - check the best options for you! Please note the use of provided hand sanitizer is required every time you approach a food station.  
Monday menu | Tuesday menu | Wednesday menu | Thursday menu | Friday menu
(Daily menus are subject to change). V = Vegan, GF = Gluten Free
If you would like to check our full menu proposal for QCon SF 2023, please click here. 
Monday, October 2nd 
Autumn Wild Rice Soup

V

GF

Chicory Salad with Local Citrus, Fennel, Honey Mustard Vinaigrette

V

GF

Lentil Salad with Delicata Squash and Shimeji Mushrooms

V

GF

Chicken Marbella with Prunes, Olives, Capers, Plum Glaze

GF

Honey Miso Umami Pacific Salmon, Charred Broccolini, Tomatoes

GF

Vegetable Paella with Butternut Squash, Zucchini, Tomato, Peas, Peppers, Garbanzo Beans, Saffron

V

GF

Herb Roasted Root Vegetables

V

GF

Banana Chia Pudding with Seasonal Berries

V

GF

Rolls and Butter (

GF

rolls available on request)
Tuesday, October 3rd
Midnight Black Bean Soup

V

GF

Fall Greens with Asian Pears, Pomegranate Seeds, Membrillo Vinaigrette

V

GF

Chickpea and Tomato Salad with Kalamata Olives

V

GF

Local Honey and Napa Mustard Roasted Chicken Breast with Apples

GF

Slow Braised Angus Beef with Root Vegetables

GF

Far West Fungi Mushroom Bourguignon with Herbed Polenta

V

GF

Steamed Pole Bean, Broccolini, Pea Medley

V

GF

Warm Pear and Fig Crisp with Gluten Free Streusel

V

GF

Rolls and Butter (

GF

rolls available on request)
Wednesday, October 4th 
Roasted Cauliflower and Potato Soup with Rosemary and Lemon

V

GF

Butternut Squash Quinoa Salad with Baby Spinach, Golden Raisins, Balsamic Dijon Vinaigrette

V

GF

Marcella Bean Salad with Fresh Herb Pistou

V

GF

Charred Steak Florentine, Arugula, Olive Oil, Lemon

GF

Striped Bass Livornese with Crushed Heirloom Tomatoes and Capers

GF

Gluten Free Pasta with Butternut Squash, Lentils, Beyond Meat Sausage, Spinach

V

GF

Sautéed Zucchini and Squash with Oregano

V

GF

Fall Fruit Salad with Rose Water Infused Vegan Yogurt Dipping Sauce

V

GF

Rolls and Butter (

GF

rolls available on request)
Thursday, October 5th
Butternut Squash Minestrone with Sage, Chickpeas, and Chard

V

GF

Autumn Kale Salad with Dried Fruits, Cider Vinaigrette

V

GF

Sugar Snap Pea Salad with Radish and Mint

V

GF

Maple Glazed Roasted Natural Chicken Breast Agrodolce, Sautéed Kale,

GF

Seared Pacific Waters Halibut with Castroville Artichokes, Olive Oil Poached Toybox Tomatoes

GF

Slow Cooked Brown Lentils with Root Vegetables, Broccolini, Tri-Color Quinoa

V

GF

Roasted Baby Heirloom Carrots

V

GF

Rice Pudding with Maple Caramelized Pineapple

V

GF

Rolls and Butter (

GF

rolls available on request)
Friday, October 6th 
Ginger Carrot Bisque

V

GF

Butter Lettuce Salad with Citrus Roasted Beets, Fresh Herbs, Yogurt Dill Dressing

V

GF

Shaved Brussels Sprouts Salad with Honeycrisp Apples, Dried Cranberries, Pepitas, Lemon-Honey Vinaigrette

V

GF

Maple Glazed Roasted Petaluma Chicken Breast, Fennel and Swiss Chard, Whole Grain Mustard Jus

GF

Roasted Bistro Steak, Mushroom Demi-Glace, Yukon Potato Puree

GF

Eggplant Involtini with Spinach White Beans, and Mushrooms, Tomato Ragout

V

GF

Steamed Rainbow Cauliflwower with Olive Oil and Fresh Herbs

V

GF

Whole California Strawberries with Vegan Chocolate Dipping Sauce

V

GF

Rolls and Butter (

GF

rolls available on request)