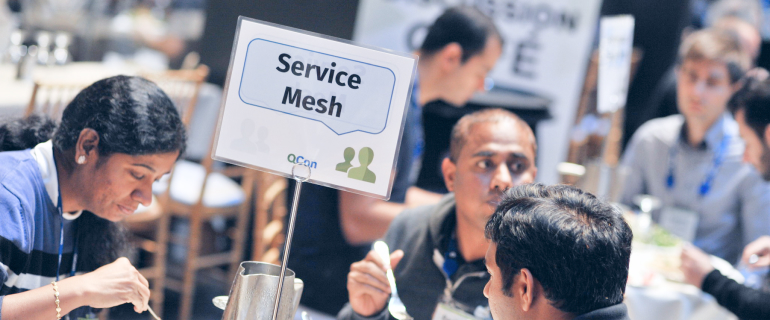 Lunch Topic Discussions
Eat, discuss, and learn! Join one of the Lunch Topic Discussion tables and share your insights and questions with fellow attendees. It's the perfect opportunity to take advantage of every minute of your time at QCon by connecting with peers who are working with the same tools, constraints and challenges you are!
Need inspiration for a project you're working on? Have an interesting insight to share? Looking for advice on how to solve a problem? 
This is an incredible opportunity to bring up anything you'd like to talk about! You can have unstructured conversations and debates around some of the major topics presented at QCon.
Be sure to check which day your topics are being discussed! Reminder emails and Slack messages will be sent out ahead of each session.
Topics we will be discussing include:
Monday
Resilient Architectures
Building for Scale
Modern Languages
Microservices
Java
Create your own topic
Tuesday
Microservices
APIs
Green Software
Optimizing for Speed & Flow
Systems Programming
Create your own topic
Wednesday
Architecture
Staff-Plus Engineer
Security
Javascript & Front-Ends
Observability
Create your own topic
Lunch Menus for QCon San Francisco 2022
Enjoy a buffet-style variety of healthy food choices, including gluten-free, vegetarian and vegan options. Use the filter according to your preferences or restrictions and check the best options for you! Please note it is required to use the provided hand sanitizer every time you approach the buffet.  
Monday menu / Tuesday menu / Wednesday menu / Thursday menu / Friday menu
(Daily menus are subject to change).  V = Vegan, GF = Gluten Free
Monday, October 24
Red Lentil Soup with Lemon

V

GF

Local Apple and Autumn Chicories Salad, Dried Cranberries, Sherry Mustard Vinaigrette

V

GF

Yellow Eye Bean Salad with Cucumber, Tomato, Fresh Herb Vinaigrette

V

GF

Rolls and Butter (Gluten Free rolls available on request)
Roasted Chicken Breast with Port and Figs, Kobacha Squash with Sage

GF

Poached Pacific Salmon and Carrot Broth, Blistered Tomatoes

GF

Gluten-Free Chickpea Pasta with Beyond Meat "Sausage", Broccoli Rabe

V

GF

Balsamic Glazed Brussels Sprouts

V

GF

Salted Caramel Nectarine Cobbler with Oat Crumble

V

GF
Tuesday, October 25
Farmer's Market Vegetable Soup with Kale and Chickpeas

V

GF

Butter Lettuce Salad with Frisee and Radicchio, Ginger Roasted Beets, Heirloom Tomatoes, Champagne Vinaigrette

V

GF

Harvest Quinoa Salad with Butternut Squash, Apples, Dried Cranberries, Cider Vinaigrette

V

GF

Rolls and Butter (Gluten Free rolls available on request)
Blackberry-Peach BBQ Grilled Chicken Thighs, Boniato Mash

GF

Santa Maria Tri Tip, Pinquito Beans, Charred Tomato Salad

GF

Vegan Pulled Jackfruit, Quinoa Medley, Wilted Greens

V

GF

Blue Lake Beans with Grilled Corn

V

GF

Whole California Strawberries, Blackberries and Grapes

V

GF

Dark Chocolate Fondue with Orange Citrus Essence
Wednesday, October 26
Heirloom Tomato Soup

V

GF

Mixed Greens Salad with Roasted Peppers and Artichokes, Balsamic Vinaigrette

V

GF

Roasted Butternut Squash Salad with Spinach, Pomegranate Molasses

V

GF

Rolls and Butter (Gluten Free rolls available on request)
Fire Licked London Broil with Far West Fungi Mushroom Medley

GF

Pan Crisped Barramundi, Lemon Caper Sauce, Braised Swiss Chard

GF

Lentils, Brown Rice, and Root Vegetable Stuffed Peppers

V

GF

Sautéed Zucchini and Squash with Oregano

GF

Heirloom Apple Wedges

V

GF

Almond Butter, Natural Peanut Butter, Apple Butter, Sun Butter, Nutella
Thursday, October 27
Butternut Squash Apple Bisque

V

GF

Arugula Frisee Salad, Honeycrisp Apples, Dried Cherries, Pomegranate Cider Vinaigrette

V

GF

Gluten-Free Pasta Salad with Autumn Squash and Spinach

V

GF

Rolls and Butter (Gluten Free rolls available on request)
Maple Glazed Roasted Natural Chicken Breast, Sautéed Kale, Mustard Jus

GF

Tomato Poached Halibut, Manzanilla Olives, Toasted Quinoa

GF

Black Bean and Spinach Stuffed Sweet Potato, Tahini Drizzle

V

GF

Fig and Pear Crisp

V

GF

with Clotted Cream

GF
Friday, October 28
Asparagus and Sunchoke Soup

V

GF

Crisp Pear and Dried Apricot Salad with Seasonal Greens, Champagne Vinaigrette

V

GF

Green Goddess Salad with Snap Peas, Tofu, Buckwheat, Asparagus, Radish, Pepitas, Dill Dressing

V

GF

Rolls and Butter (Gluten Free rolls available on request)
Herbed Yogurt Marinated Grilled Chicken Thighs, Cannellini Bean Ragout

GF

Stout Infused Pot Roast, Roasted Carrots, Button Mushrooms, Yukon Potato Puree

GF

Eggplant Involtini with Spinach White Beans, and Mushrooms, Tomato Ragout

V

GF

White Truffle Roasted Root Vegetables and Squashes

V

GF

Chia and Tapioca Parfaits with Roasted Berries

V

GF
Wellbeing activities
At Qcon, we really mean it when we say We Care! This includes caring for your mental wellbeing while you're with us. With so many great ideas being exchanged, interesting conversations happing, and new connections being made, you may need to take a moment for yourself. That's why this year we're offering wellbeing sessions.
We encourage you to join us from 1:15 PM - 1:35 PM. There is limited availability, so participation in these activities is on a first-come, first-served basis.
Monday - Marina room
Chair Yoga - Grab a chair, get up and stretch! This session will include gentle breathing and stretching exercises with the use of a chair. No yoga mat, sweat, floor work or change of clothes needed. It's better than coffee!
Tuesday - Marina room
Stress Less - Learn 5 tricks on how to shift your energy from feeling stressed to feeling more at ease with peace of mind. Five minutes is all it takes to feel better in mind and body.
Wednesday - Pacific LM room
Guided Meditation - This guided meditation will bring you back into your body, starting with a body scan and finishing with a technique you can use to ground at any time you need it during your meeting