Monica Beckwith offers a deep dive into the intricate world of the JVM and its evolving relationship with exotic hardware in her enlightening presentation at QConSF's JVM trends track. Drawing from her extensive experience, including notable contributions to the electronics of the deformable secondary mirror of the Multiple Mirror Telescope, Monica seamlessly blends personal insights with technical expertise. She takes the audience on a trip down memory lane, recounting her journey with the telescope and presenting a hypothetical scenario where GPU optimization plays a pivotal role in enhancing mirror adjustments, all through the lens of various OpenJDK projects.
As computing landscapes undergo rapid transformations, the JVM's adaptability to integrate with unconventional hardware emerges as a beacon of modern software engineering's potential. Monica provides attendees with a foundational understanding of exotic hardware's significance within the JVM ecosystem, emphasizing the transformative potential of cloud environments in leveraging such hardware's capabilities
The presentation navigates through the pivotal role of language design and toolchains, using real-world case studies of LWJGL via JNI and Aparapi to highlight the challenges and successes of hardware integration. Monica then shifts focus to groundbreaking initiatives like OpenJDK Project Sumatra, which sought to amplify the JVM's compatibility with GPUs and accelerators, and TornadoVM, a specialized JVM iteration for hardware accelerators. The journey culminates in an exploration of Project Panama, a monumental stride in Java performance optimization with it's Vector API and Foreign Function & Memory Interface.
With a blend of technical depth, visionary foresight, and personal anecdotes, Monica invites attendees to immerse themselves in the interplay between the JVM and exotic hardware. From understanding the nuances to envisioning the broader implications for performance engineering's future, the presentation underscores the importance of collaboration, innovation, and a shared vision. Monica beckons the audience to join this narrative, emphasizing the collective power in shaping JVM performance engineering's future.
---
Speaker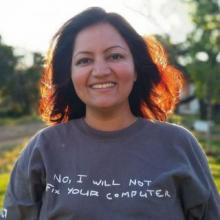 Monica Beckwith
Java Champion, Author of JVM Performance Engineering, JVM Performance Expert @Microsoft, First Lego League Coach, Advocate for STEAM + kids
Monica Beckwith is a leading figure in Java Virtual Machine (JVM) performance tuning and optimizations. With a strong Electrical and Computer Engineering academic foundation, Monica has carved an illustrious, impactful, inspiring professional journey.
Her role as a Java Champion and the author of `JVM Performance Engineering` underscores her unwavering dedication to the Java community. Monica's significant contributions and thought leadership have enriched the community and set new benchmarks in JVM performance optimization.
Monica is an active contributor to the broader tech community. She serves on the program committee for various prestigious conferences and hosts JVM and performance-themed tracks, further emphasizing her commitment to knowledge sharing and community building.
At Microsoft, Monica's expertise shines brightly as she optimizes JVM-based workloads for key services, spanning a variety of VM stacks on Azure. Her deep-seated understanding of hardware and software engineering, combined with her adeptness in systems engineering principles, uniquely positions her at the intersection of the hardware-software divide.
Beyond her technical prowess, Monica embodies values that resonate deeply with those around her. She is a beacon of integrity, authenticity, and continuous learning. Her belief in the transformative power of actions, the sanctity of reflection, and the profound impact of empathy defines her interactions and approach. A passionate speaker, Monica's commitment to lifelong learning is evident in her zeal for delivering talks and disseminating knowledge.
Outside the confines of the tech world, Monica's dedication extends to nurturing young minds as a First Lego League Coach. This multifaceted persona, combined with her roles as a Java Champion, author, and performance engineer at Microsoft, cements her reputation as a respected figure in the tech community and a source of inspiration for many.
Read more
Find Monica Beckwith at: