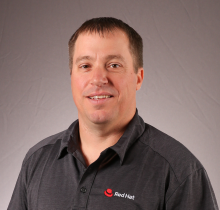 Speaker: Jason Froehlich
Architect @Red Hat
Jason Froehlich is a Consulting Architect with Red Hat's Cloud Native Runtimes Practice specializing in the design, development and integration of software solutions, focused in and around open-source. Jason helps customers succeed by applying design thinking, mentoring, building relationships, and by demonstrating software development best practices.
As a Red Hat Architect, Jason is skilled in application development and DevOps. Jason has more than 20 years of experience as a software developer and 15 years of experience utilizing Java. Jason is skilled in many facets of cloud native application development working on every tier from front end UI development to back-end database development. Jason is very personable and strives to deliver high-quality solutions in a timely manner.
Find Jason Froehlich at:
Workshop
We all know that installing Kubernetes is getting easier, but installation is only the first step. You need to be able to have storage, monitoring, observability, and various other platform services which make using Kubernetes a real pleasure to use.
Workshop
Many of the tools and techniques of the past are getting disrupted by the needs of modern cloud-native application development, deployment, and scalability.