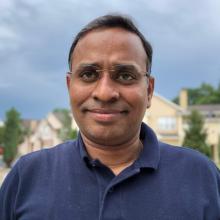 Speaker: Karthik Krishnan
He / him / his
Technical Principal @Thoughtworks
Karthik Krishnan is a technology leader with over 25 years of experience in designing and building large-scale enterprise solutions across financial and retail domains. He has played numerous technical roles in leading product development for major financial institutions. He is currently serving the role of Technical Principal at Thoughtworks. He is passionate about platform thinking, solution architecture, application security and strives to be known as a coding architect. His most recent assignment entailed leading a large technology team helping their clients in their legacy modernization journey with Cloud. When not working, he spends time practicing playing tunes on his musical keyboard.
Find Karthik Krishnan at:
Workshop
Wardley Mapping is a practical approach to constructing a topographical business map that directs business decisions.
Workshop
While the IT industry prides itself on being at the very bleeding edge of technology, it also oversees a relatively high proportion of projects that fail outright or do not meet their originally intended goals for one reason or another.
Workshop
Team Topologies is an organizational design practice that keeps software healthy and evolvable for optimized engineering culture and promised outcomes.
This workshop introduces nine steps of running Team Topologies that help engineering leaders