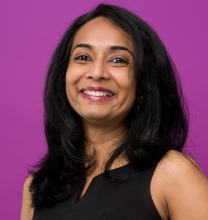 Speaker: Smruti Patel
She / her / hers
VP of Engineering @Apollo Graph
Smruti Patel is the VP of Engineering at Apollo Graph, the leading graphQL platform for building highly performant APIs, at scale, for rapid digital transformation. She has led and scaled high performing engineering teams at Stripe and VMware, building critical infrastructure for global businesses. Her interests include mentoring and coaching, hiking with her boys, and traveling the world.
Find Smruti Patel at:
Session
Do we build a greenfield platform or do we incrementally centralize common foundations? Do we abstract away all complexity or provide upfront knobs and handles for composability?
Read more