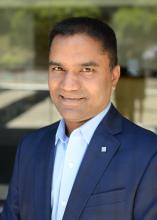 Speaker: Asif Iqbal
Global Director, Digital & Experience Design @Alimentation Couche-Tard
Dad | Visionary and innovative leader with 20 years of experience successfully leading large digital transformation and technology strategies across businesses in wireless, retail, omni-channel, eCommerce, digital, entertainment, and data science domains.
Loved to travel with my son and have been to 53 countries.
Find Asif Iqbal at:
Session
Digital transformation is not about new cool technologies, it's a mindset shift and requires the awareness and understanding of customer needs.
Read more
Session
Transformation is needed and hard. Many companies have had starts and stops, made great progress, made limited progress, had major and minor setbacks and some haven't even started.
Read more