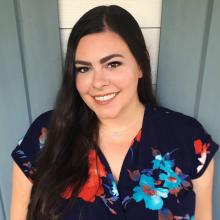 Speaker: Christina Yakomin
She / her / hers
Senior Site Reliability Engineering Specialist @Vanguard_Group
Christina is a Senior Site Reliability Engineering Specialist in Vanguard's Chief Technology Office. She has worked at the company's Malvern, PA headquarters since graduating from Villanova University with an undergraduate degree in Computer Science. Throughout her career, she has developed an expansive skill set in front- and back-end web development, as well as cloud infrastructure and automation, with a specialization in Site Reliability Engineering. She has earned several Amazon Web Services certifications, including the Solutions Architect - Professional. Christina has also worked closely with the Women's Initiative for Leadership Success at Vanguard, both internally at the company and externally in the local community, to further the career advancement of women and girls - in particular within the tech industry. In her spare time (and when it is safe to do so!), Christina is passionate about traveling; she has visited over 20 different countries and 25 U.S. states so far!
Find Christina Yakomin at:
Session
People used to ask me all the time how to figure out if their chaos test has "passed," and I'd always say "well, that's a loaded question." To confirm that a chaos test "passed," we need to do verification of hypotheses - sometimes you're trying to prove some system behavior occurred in response
Read more
Session
How does SRE mature from a craft with a wide range of skills and levels of expertise to a mature discipline? In the Panel SRE: Is it Working?, we bring together all of today's speakers and rethink/discuss original assumptions of what SRE is and dive into how we believe SRE is evolving.
Read more