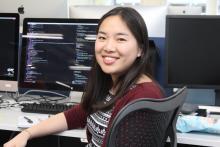 Speaker: Denise Yu
Engineering Manager and Rubyist, Previously Engineering Manager @GitHub
Denise is an engineering manager and Rubyist, most recently at GitHub, but currently on hiatus. At GitHub, she worked on the GitHub Sponsors program and other products within the Communities department, the mission of which is to make GitHub the best place for open source communities to thrive. She speaks and runs workshops frequently at conferences in North America and Europe on topics ranging from scaling organizational culture, to reliability engineering, to sketchnoting. She is currently based in Toronto, Canada.
Find Denise Yu at:
Session
A team's ability to communicate effectively and disagree productively is directly related to its resilience towards incidents and interruptions.
Read more
Session
The hardest part of technology is rarely the tech itself. Systems are designed, used, and operated by people. People make mistakes, but they are also critical to keeping systems safe and reliable.
Read more