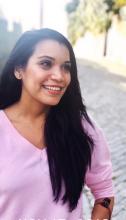 Speaker: Vanessa Huerta Granda
She / her / hers
Solutions Engineer @jeli_io
Vanessa is a Solutions Engineer at Jeli helping companies make the most of their incidents. In 2021 she co-authored Howie: The Post-Incident Guide, an in-depth explanation for how tech organizations can learn from incidents. Previously, she led Resilience Engineering at Enova where she focused on their Production Incident process, learning from incidents, and leading the on-call rotation of Incident Commanders.
She has led the Chicago Women in Technology Conference and is an active member of the Learning From Incidents community. She is passionate about continuous improvement, getting teams to talk to each other, and Diversity and Inclusion in Tech.
Find Vanessa Huerta Granda at:
Session
The hardest part of technology is rarely the tech itself. Systems are designed, used, and operated by people. People make mistakes, but they are also critical to keeping systems safe and reliable.
Read more