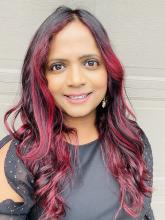 Speaker: Shweta Saraf
Director of Platform Networking @Netflix, Board Member for eBPF Foundation
Shweta is the Director of Platform Networking at Netflix and leads the teams that power the largest streaming network on the earth. Her teams are responsible for building various components of the network, like the cloud gateway, the cloud networking stack, network as service platform and service mesh.
Prior to Netflix, Shweta was Head of Network Modernization at Equinix. In her role, she transformed one of the largest network's on the planet by driving efforts around network disaggregation, network efficiency and network intelligence with focus on open source. She previously scaled the Edge Infrastructure teams that built the Equinix Metal - baremetal cloud offering and Network Edge - network NFV offering at Equinix. She has also held leadership roles at Packet, DigitalOcean and Cisco.Shweta also serves on the board of eBPF Foundation which is part of Linux Foundation. 
Shweta is passionate about making space for all the voices in tech and has worked (for the last decade) to advance women and other minorities in tech. Shweta mentors many leaders in tech and also co-host of Traceroute podcast for the upcoming season. Shweta is 40 under 40 honoree for 2022, recognized by Silicon Valley Business Journal for her contributions to tech and community.She was also recognized by YWCA of Silicon Valley as Emerging leader back in 2008.  She lives in the Bay Area with her husband, son and a fur baby.
Find Shweta Saraf at:
Session
Building and retaining top talent, empowering them with challenging problems, and setting ambitious goals are all essential ingredients for success in any organization.
Read more