Building and retaining top talent, empowering them with challenging problems, and setting ambitious goals are all essential ingredients for success in any organization. However, the ever-evolving landscape of an organization can often disrupt even the best-laid plans, making it challenging to deliver consistent results for customers.
In this engaging talk, we will delve into the critical concept of harnessing the collective intelligence of your team to not only multiply productivity but also cultivate organizational resilience in the face of unceasing changes. Whether it's navigating shifts in the macroeconomy, adapting to changing priorities, adjusting to new leadership, or expanding your team, this presentation offers a roadmap for thriving amidst turbulence.
Key Topics to be Covered:
Measuring Organizational Efficiency: Discover how to assess and quantify organizational efficiency and its direct relationship to productivity. Gain insights into using data-driven metrics to keep your team on track.

The Multiplier Effect: Explore the transformative potential of the Multiplier Effect and learn to distinguish between Multipliers and accidental Diminishers within your organization. Uncover strategies to amplify the former and mitigate the latter.

Illustrative Examples: Dive into real-world case studies and examples showcasing behaviors that multiply productivity and those that inadvertently hinder progress.

Adapting to Constant Change: Gain valuable insights into applying this framework within dynamic and shifting organizational landscapes. Understand the differences between leadership styles suited for wartime and peacetime scenarios.

Expanding Roles: Whether you're embarking on a new job or expanding your responsibilities within an existing role, discover how to seamlessly integrate the Multiplier framework to boost your effectiveness.
As leaders within your organization, whether in a technical or managerial capacity, this talk will equip you with a comprehensive framework to unlock the full potential of your team or organization. Practical tools and methodologies will be shared to help identify diminishing behaviors and implement strategic changes that lead to exponential productivity gains. Additionally, we'll explore how to tailor and adapt this framework to suit the unique challenges posed by the ever-changing landscape of your current role, job transitions, or role expansions.
Join us for an enlightening session that will empower you to lead with confidence in the face of constant change, fostering a culture of innovation and productivity within your team and organization.
---
Speaker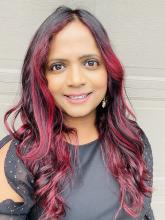 Shweta Saraf
Director of Platform Networking @Netflix, Board Member for eBPF Foundation, Previous Leadership Roles at Packet, DigitalOcean, & Cisco
Shweta is the Director of Platform Networking at Netflix and leads the teams that power the largest streaming network on the earth. Her teams are responsible for building various components of the network, like the cloud gateway, the cloud networking stack, network as service platform and service mesh.
Prior to Netflix, Shweta was Head of Network Modernization at Equinix. In her role, she transformed one of the largest network's on the planet by driving efforts around network disaggregation, network efficiency and network intelligence with focus on open source. She previously scaled the Edge Infrastructure teams that built the Equinix Metal - baremetal cloud offering and Network Edge - network NFV offering at Equinix. She has also held leadership roles at Packet, DigitalOcean and Cisco.Shweta also serves on the board of eBPF Foundation which is part of Linux Foundation. 
Shweta is passionate about making space for all the voices in tech and has worked (for the last decade) to advance women and other minorities in tech. Shweta mentors many leaders in tech and also co-host of Traceroute podcast for the upcoming season. Shweta is 40 under 40 honoree for 2022, recognized by Silicon Valley Business Journal for her contributions to tech and community.She was also recognized by YWCA of Silicon Valley as Emerging leader back in 2008.  She lives in the Bay Area with her husband, son and a fur baby.
Read more
Find Shweta Saraf at: