In the last 2 years, most of us don't recognize the ways of working before the pandemic hit us. In the old days, I remember planning my day to catch a train to get to work every day at Nike's European headquarters in Hilversum, Netherlands. We were already a distributed team and had a fantastic infrastructure to connect to colleagues spread around the world. Then came the pandemic and I moved to work for adidas in Austria. Like Nike, they had a fantastic infrastructure to connect employees around the world but it was 7 months before I met a colleague in-person.
When I first met a colleague in their Vienna office, I didn't know where to look while talking to a real human face-to-face. I think I stared at plants, posters, table, pen, glass of water, nose of my colleague and everywhere else except look them in the eyes. As a team, we envisioned to change lives with the best of digital sports while our own internal team dynamics was evolving. If this were a sci-fi movie, I would say we together went into a wormhole and came out into a new reality, which didn't just change how we work but who we were as individuals. We had great laughs, many frustrations and a whole lot of confusion on how to deliver towards our roadmap commitments? The Adidas leadership rose to the occasion like Avengers, and learned very quickly on the things that work and don't work in this new reality to do digital product development.
This presentation will focus on how we learned and adjusted in this new global reality. I'll also share some quick tips to help tech leaders get ready for a hybrid workplace and all remote teams future. Most importantly, I will talk about how to support extroverts and introverts in these settings, and why it's important more than ever to focus on team culture as the #1 priority in product development.
---
Speaker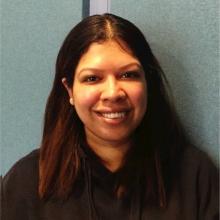 Mehnaaz Abidi
Vice President Product, Runtastic @adidas
Mehnaaz 'Mez' Abidi loves to build digital products that trigger feelings of joy, fun, trust and inclusiveness. She believes the best teams are those who work in a culture where every moment spent should feel like it was worth it. They love what they're building so much that it becomes a calling, and while doing that they form a tribe of people whom they love, hate and most importantly don't want to leave. She joined Adidas in February 2021 as Vice President of Product to scale their Digital Sport experiences. In the last 20 years, she has covered every aspect of digital product development to drive commercial success for global brands like Adidas, Nike, Tesco, Amazon and others. She has diverse experience of leading distributed teams across consumer, technical and data product development, user research, system, product and service design, and program management. She has established teams from ground up for 0-1 scaling in headwinds, and leading change and optimization in strong tailwinds.
Read more