QCon San Francisco 2022 is a wrap!
Thank you to the 1,000+ senior software engineers, software architects, and team leads who joined us at QCon San Francisco 2022. Take a look at the conference highlights. Catch up with the session videos you missed. See what people had to say on social about #QConSF.
Over 120 software leaders driving innovation and change shared their practical insights and use cases to help attendees validate their technical roadmap. QCon San Francisco attendees told us how the event helped them find solutions to their challenges, adopt the right software innovations and practices, and reduce uncertainty on which technologies should be part of their roadmap.
Join us at our next QCon San Francisco international software development conference (October 2-6, 2023).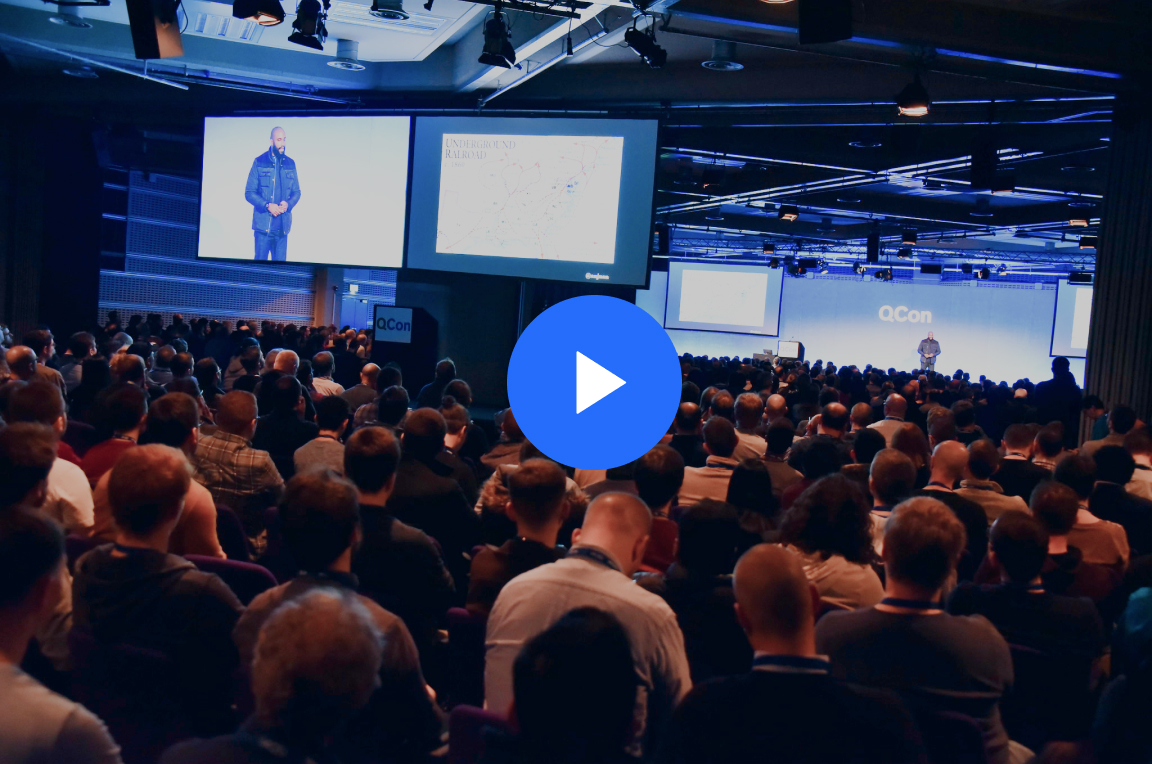 QCon San Francisco focused on emerging software trends and innovations
Technical talks from over 120 software domain experts focused on innovation and change. Talks focused on patterns & practices, not products and pitches.
Attendees learned implementable ideas they could apply after the event.
Innovators
Green Tech
Rust
WASM
eBPF
Machine Learning @ Edge
Scalable Configuration Management
Infrastructure Unification
Cue Lang
Early Adopters
MLOps
Team Topologies
Staff+ Engineer Path
Service Meshes
Microfrontends
Multicloud Practices
Software Ethics
Feature Engineering
Mode Inference/Prediction
Observability Practices
Server-Driven Frontend
Decarbonizing the Grid
Operator Pattern for
Non-Clustered Resources
Patterns & Heuristics
Enabling Fast Flow
Open Policy Agent
Java 17 (LTS)
Paved Road
Early Majority
DevSecOps
DevOps in Practice
Kubernetes Strategies
Observability / Telemetry
Site Reliability Engineering
Chaos Engineering
Operating Microservices
Data Engineering
GraphQL
Go Techniques & Patterns
DevEx
Reactive
Performance
Macroservices
Serverless: Orchestration &
Choreography
Cloud Architectures
Patterns for Scale
IaC (Infrastructure as Code)
Polyglot Software Practices
Loved by senior software practitioners like you
Take a look at the event highlights and see what your peers had to say on social media about
#QConSF

.
QCon charges a premium price point, but I can't remember the last conference I attended (of 100s) where every single talk was interesting and I learned something. #qconlondon

Donnie Berkholz
@dberkholz
Feeling the #QConSan Francisco FOMO, even though I'm here. I've enjoyed every talk I've been to, but then I see the tweets from the concurrent talks I *wasn't* in and start gnashing my teeth that I missed it. I guess that's why recordings exist.

Holly Cummins
@holly_cummins
Brain: melted, thanks @qconlondon and all speakers for the amazing content. #QConSan Francisco

Stéphane Goetz
@onigoetz
My timeline is filling up with brilliant ideas from big thinkers coming out of #QConSan Francisco

Julie Lerman
@julielerman
On my way to #Qconlondon, looking forward to a real in-person conference after two years #softwaredeveloper #agile #travel #londoncity #InfoQ

Ben Linders
@BenLinders
2022 Topics and Tracks
Behind every QCon is a Program Committee of senior software leaders who curate the essential topics you need to know about. A track is a peer-curated day of talks around important topics in software. Take a look at the QCon San Francisco 2022 topics and tracks.
Keynotes
Learn actionable insights to help you adopt the right technologies and practices.
Top Sessions at QCon San Francisco 2022
Top 5 best voted
Top 5 most attended
Sign up for event updates
Hear about the latest QCon and InfoQ developments. Be the first to learn about in-person and virtual events.
We facilitate the spread of knowledge and innovation in professional software development by sharing the expertise of practitioner software engineers and architects. We've been helping software development teams adopt new technologies and practices for over 17 years through InfoQ articles, news items, podcasts, tech talks, trends reports, and QCon conferences. Join a community of senior software engineers, architects and team leads.
Read InfoQ →